Isle of Man Newspapers Awards for Excellence – Finest.im Finalists for Lexington Award for Business of the Year 2022
The Isle of Man Newspapers Awards for Excellence 2022
"This award recognises an Isle of Man business that has maintained consistent growth and strong financial performance, understands its customers, has an engaged workforce with effective leadership, demonstrates effective use of technology to engage with its stakeholders (customers, employees, etc) and is continually innovating to support future growth".
It has been an amazing week for Finest.im we were so  honoured to have reached the final for the  IOM Newspapers Awards for Excellence for Best Business.
The glittering Awards Evening was held at the Villa Marina in the Royal Hall on Thursday 17th November with this year being their sixteenth year!
Here we are amongst the two other finalists https://www.afe.im/categories/business-of-the-year/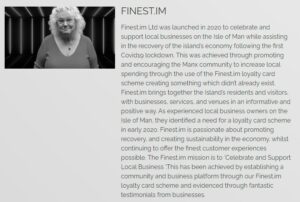 It was an incredible honour for us to stand alongside PDMS and Duncox Group as finalists and we would like to congratulate PDMS on a very well deserved win.