Exclusively to Finest.im Cardholders :

Free exclusive Finest.im choccy with each choctail purchase*
Hot Choccy Bar is a one of kind cocktail bar styled space offering unique and delicious Hot Choctails.
Hot Choccy Bar goods are on sale, including bombs, stirrers and the exclusive Hot Choccy blend. All their choccy products are made instore by their Chocolatier, Tracey Kelly.
There is no menu, as they specialise in making each Choctail personal to your taste. Each drink is made with their own high-quality Hot Choccy blend, and the ingredients are carefully selected to
create unique and flavourful combinations. The Choctail waiters are happy to help advise and recommend combinations or the Choctail of the Month.
Hot Choccy Bar offers 5 choccy blend flavours – milk, white, dark, ruby and orange; various marshmallows; 3 crumb toppings – biscoff, oreo and honeycomb; and finally 30 Monin natural syrup flavours!*
Customers can also customize their drinks by choosing from their selection of syrups, marshmallows, and crumb toppings. For those looking for an extra kick, you might also offer a selection of liqueurs that can be added for a luxury hot choctail.
The Hot Choccy Bar is the perfect place to warm up on a cold day, indulge in a sweet treat maybe a biscuit choccy or a brownie fudge bombe, or catch up with friends over a delicious hot choctail.
Choctail and Choccy Making Parties are held in the bar and can be booked instore or online www.choccypiccy.im/parties.
*Dairy Free and Vegan options are available including Vegan marshmallows, oat milk & milk chocolate.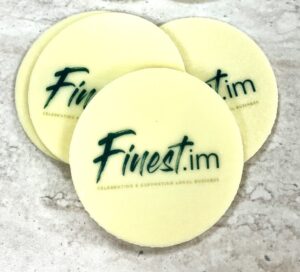 Features