Exclusively to Finest.im Cardholders :

10% off Edith Quaggin's books at Finest.im Central; The Magic Tunnel, Jinny the Witch and the Magic Tunnel and the Lil' People and the Magic Tunnel*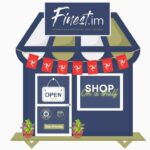 Located in the village of Laxey, on the eastern coast of the Isle of Man, the restored railway runs along the surface section of the tramway which once carried lead and zinc ores from deep inside the Great Laxey Mine.
The railway's terminus is located at the Valley Gardens which was once the site of the Great Laxey Mine's Washing Floors. Passengers travel in a tiny carriage, hauled by a replica of one of the original steam engines, through the Island's only railway tunnel and along the line which once carried wagons loaded with the metal ores.
At the Mines Yard terminus of the railway, a series of information boards explain the surviving mining features. The Laxey Wheel, the Lady Isabella, is just a short walk away from the terminus. Built in 1854 to pump floodwater from the mine, it is the largest working waterwheel in the world and is the Island's most visited tourist attraction. In 2006, the former Snaefell Mine waterwheel was restored to working order on the Valley Gardens. No other railway can boast of a waterwheel at each end!
Trains run every Saturday from Easter weekend through to the last weekend of September between 11.00 and 16.30. Their famous Hop Tu Naa Ghost trains run on the last two weekends of October each year.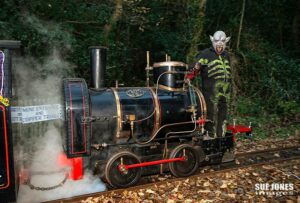 The Great Laxey Mine Railway is owned by the Laxey and Lonan Heritage Trust, a registered Manx Charity, which was formed in 1997 to promote the rich industrial and natural histories of Laxey Village and Lonan Parish. The railway is operated and maintained entirely by volunteers from the Laxey and Lonan Heritage Trust.
Local author Edith Quaggin has written three children's books based on the Great Laxey Mine Railway with all proceeds going back into the charity. The Magic Tunnel, Jinny the Witch and the Magic Tunnel and the Lil' People and the Magic Tunnel are all available to purchase from Finest.im Central at the Sea Terminal.
Features
Location
Add Review