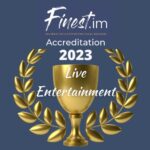 Vlad the Piper is very well known on the island for his bagpipes and has received the 2023 Finest.im Accreditation for Live Entertainment.
He has gained an amazing reputation since setting up his business 7 years ago as a solo bagpipe performer/entertainer.
Vlad the Piper has piped on more than 100 venues/occasions in the past 7 years covering events such as; weddings, corporate events, funerals, Christmas parties, New Year celebrations and wedding anniversaries.
Add Review